Cast iron teapot also known as tetsubin or cast iron tea kettle was used originally in Japan as kettle for boiling water which is done on an open fire. Japanese people then hang their tea kettle above their fireplace in order to provide enough heat, humidity and heat during cold weather.
During the introduction of green tea in the middle of the 19th century, a cast iron teapot was used on a regular basis making this beautiful teapot the famous kettle of choice during that time and even today.
Material: cast iron
Treatment: enamel, pre-seasoned(vegetable oil),wax coating,anti-rust,black painting
Cast Iron tea pot with removable Stainless Steel Infusing Basket. And the cast iron teapot interior is glazed in enamel, so it won't rust or corrode; Nor will its stainless-steel infuser. The heavy cast-iron construction retains heat so well, it ensures second cups will still be hot.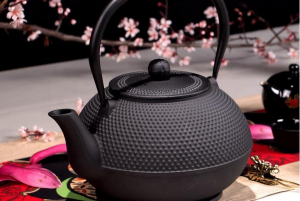 ---
Post time: May-18-2021