Amazon Hot-sale Enameled Cast Iron Skillet, 12.5 inches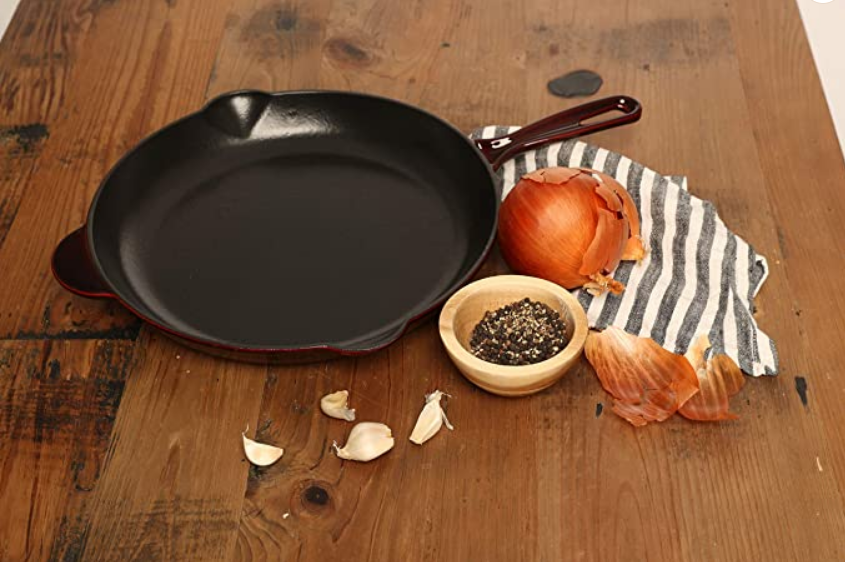 | | |
| --- | --- |
| Nonstick Coating | Yes |
| Is Dishwasher Safe | No |
| Care Instructions | Oven Safe |
| Handle Material | Cast Iron |
| | |
| --- | --- |
| Item Diameter | 12.5 Inches |
| Color | Customerized color |
|  Dimensions  | 19 x 12 x 1.7 inches |
| Capacity | 7 Pounds |
About this item
Product Details: Four Layer Glass-Fired Enamel Coated, Black Enamel Interior Coat, Food-Safe Enameled Cast Iron SPECS: Weight: 7 Lbs. Dimensions: 19.25″ x 13.5″ x 2.25″
Universal Cookware – Professional grade cast iron holds heat and distributes heat evenly for perfect cook. Safe to cook, roast, fry, saute, pan-fry, braise, prep and bake on gas, induction, glass ceramic and electric stove tops/cooktops. Perfect for slow cooking in the Oven (safe use up to 450 °F)
(IMPORTANT: Check induction burner size to confirm 8.4 inch pot diameter base will trigger sensor)
Great Non-Stick Alternative – Four coats of enamel finish aid for even heating and can release food with no scraping. Our four layered high quality BPA free enamel coating is great for cooking and is also a perfect nonstick alternative to Teflon and other toxic coated pots and pans.
To Wash – Gently Hand wash with soap and sponge to clean, and dry thoroughly. While cooking/cleaning it is recommended to limit the amount of abrasive utensils (metal) because of potential scraping, we recommend wood utensils as a good alternative.
Breakfast, Lunch, and Dinner all Made in One Pan
The Frying Pan is an irreplaceable tool in the kitchen. Used for frying, searing, frying, and sautéing, you'll be hard pressed to find a day when you don't reach for this pan.
Glass-Fired, Glazed, Black-Enameled Interior
Our skillet has a black-enameled interior, so sticking is a non-issue. Unlike raw cast iron, this pan doesn't need to be pre-seasoned.
Silica, the element used to create the gloss glaze on the cast iron, is a natural compound and is food safe.
---
Post time: Jul-12-2022